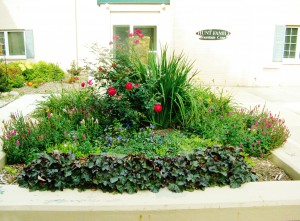 Crowell Home sits high on a shady hillside, overlooking Blair, Nebraska, and the beautiful Missouri River Valley. It was founded in 1905 when Christopher Columbus and Polly Crowell donated their mansion to be used as a retirement home. We are a non-profit facility dedicated to providing care to all.
A Medicare/Medicaid certified facility, we offer a full continuum of care with 88 skilled nursing beds, 80 private rooms (including private bathroom), 18 assisted living apartments and eight independent living apartments. Crowell Home is one of only ten Nebraska Nursing Homes to qualify as a founding member of Nebraska's "I Support Quality of Life Project". Nursing Homes in this resident-centered program implement changes to further improve the quality of life and care in their facility.
Crowell Home's therapy department provides a full range of therapies for residents who need their services because of illness, injury or the normal aging process.
Crowell Home's full-time Chaplain, Pastor David Rush leads Chapel.
We also feel very fortunate to have three vehicles to transport residents. The vans are primarily for taking residents to medical appointments. Our bus generally is used for resident's outings, including shopping trips, rides throughout the area and excursions to special events.
As a Christian community, our guiding values include:
Hospitality
We warmly welcome all;
Compassion
We offer an environment of empathy, comfort and healing;
Reverence
We hold each person in highest esteem, recognizing that we each possess a share in God's gift of life;
Wellness
We embrace the holistic approach to mind, body and spirit;
Stewardship
We responsibly manage the resources entrusted to us. We embrace these and all values essential to ethical health care.
Foundation Mission Statement:
It is the mission of Crowell Foundation to support the initiatives of Crowell Home by serving as the fundraising affiliate so that our residents experience an enhanced quality of life and our donors feel a worthwhile connection to the Home's Christian tradition.
Vision Statement:
Crowell's vision is to create an evolving health and hospitality-based community where residents experience a lifestyle that enriches mind, body and spirit and provides security through a continuum of services and care.