NOT EXACTLY THE LITTLE OLD LADY FROM PASADENA
Admittedly, some days at work are better than others.
Some days you get to do the best things ever!  That was the case this past Friday.
My husband and I are "car people" and we had decided to sell our prized possession- "HMSFEAR", a beautiful Hemi-orange, 5.7 liter, hemi V8, Dodge Challenger.  For all the non-car folks out there, that can just read "car."   One of the residents at Crowell had frequently asked me about my "Hot Rod," as he called it. Larry always told me how much he loved the car & how he'd sure love to have one like it and how fun he thought it would be to go for a ride some time. I had always told him we would have to do just that some day.  Friday was our last chance.
Revving the engine (URL TO VIDEO):  https://www.facebook.com/erica.borger/videos/10101285829275253/?l=7121587046275248780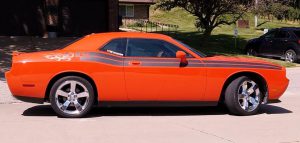 When I got into work Friday, Larry's Family consented to a ride (& some pictures, of course!).   Larry was easy to convince- In fact, I'm pretty sure he would have been happy to drive if I would have let him keep the keys!   His sister-in-law, Linda, came down to snap a few pictures for him (besides the ones taken by CMH here).  And with the help of two of CMH's wonderful nursing employees, Lynn &  Brooke, we were off on our adventure.  Though it might have been a lot of fun to see just how crazy we could get, we did refrain from re-enacting any scenes from The Dukes of Hazard and obeyed the posted speed limits.  We drove for about 30 minutes through the hills and countryside surrounding Blair.  It was a wonderful last cruise with my old friend, HMSFEAR, and such a fun way to share a mutual love of cars with one of our residents.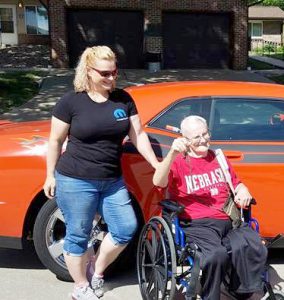 Throughout the years I have worked with seniors, they have shared their knowledge, advice, love and wisdom with me.  Things they spent a lifetime accumulating.  It is such an honor to get to give something back to them.  I couldn't have paid enough for the smile on Larry's face that day.  He thanked me for sharing the car with him, but I'm thankful he shared his joy with me.  That's the thing about sharing the "things" you love.  Their REAL value is in SHARING them.   Larry, if I ever get another "Hot Rod," you're going to have to ride shotgun on the first cruise!